When yard waste cleanup comes around backyard burning becomes more popular. Burning leaves and other yard waste gives people the excuse to have a bonfire. But before you bring out the s'mores and light the fire, make sure you check your local regulations. Many areas require permits to burn, and others may have plants prohibited by local ordinances.
Don't forget to look up! Make sure you choose a safe spot away from trees, power lines, and umbrellas. Experts recommend having a minimum of three times the height of the fire of vertical clearance. As tempting as it may be to set up close to home for easy access to snacks and beverages, keep your fire at least 30 feet away from any structures.
Check out the tips below for more backyard burning tips.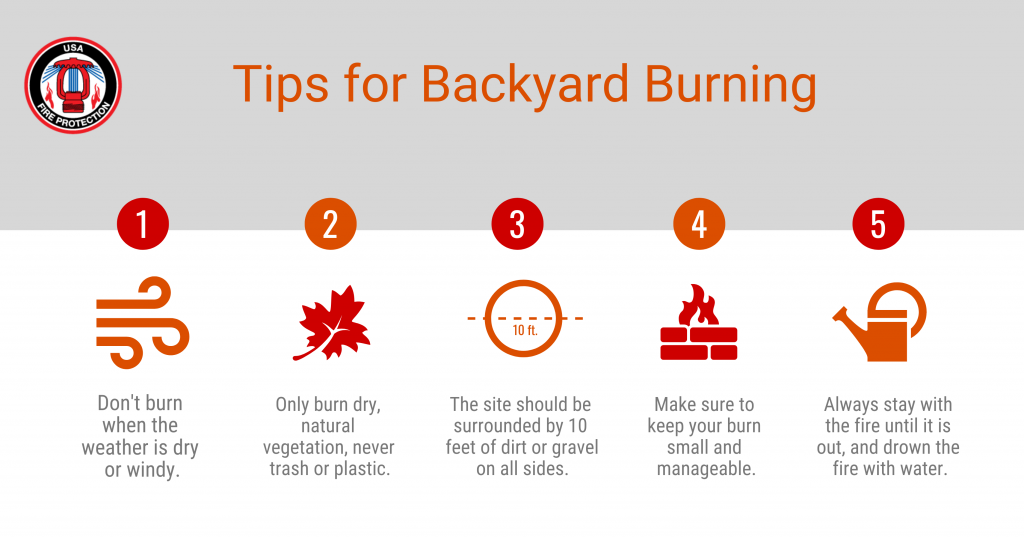 To download or print the above infographic, click here!
USAFP can help you be prepared with our fire and life safety systems. If you would like to install a new system or need maintenance on an existing system, reach out to our main office team at 847-816-0050. For projects located in Wisconsin, please call 262-782-3311. Additionally, to learn more about our all-inclusive fire protection solutions and our commitment to keeping you protected, click here.